Events
Creathoncity
17. May 2019 | 9.30 — 22.00 | Murinsel Graz
Design Competition for Bicycle Design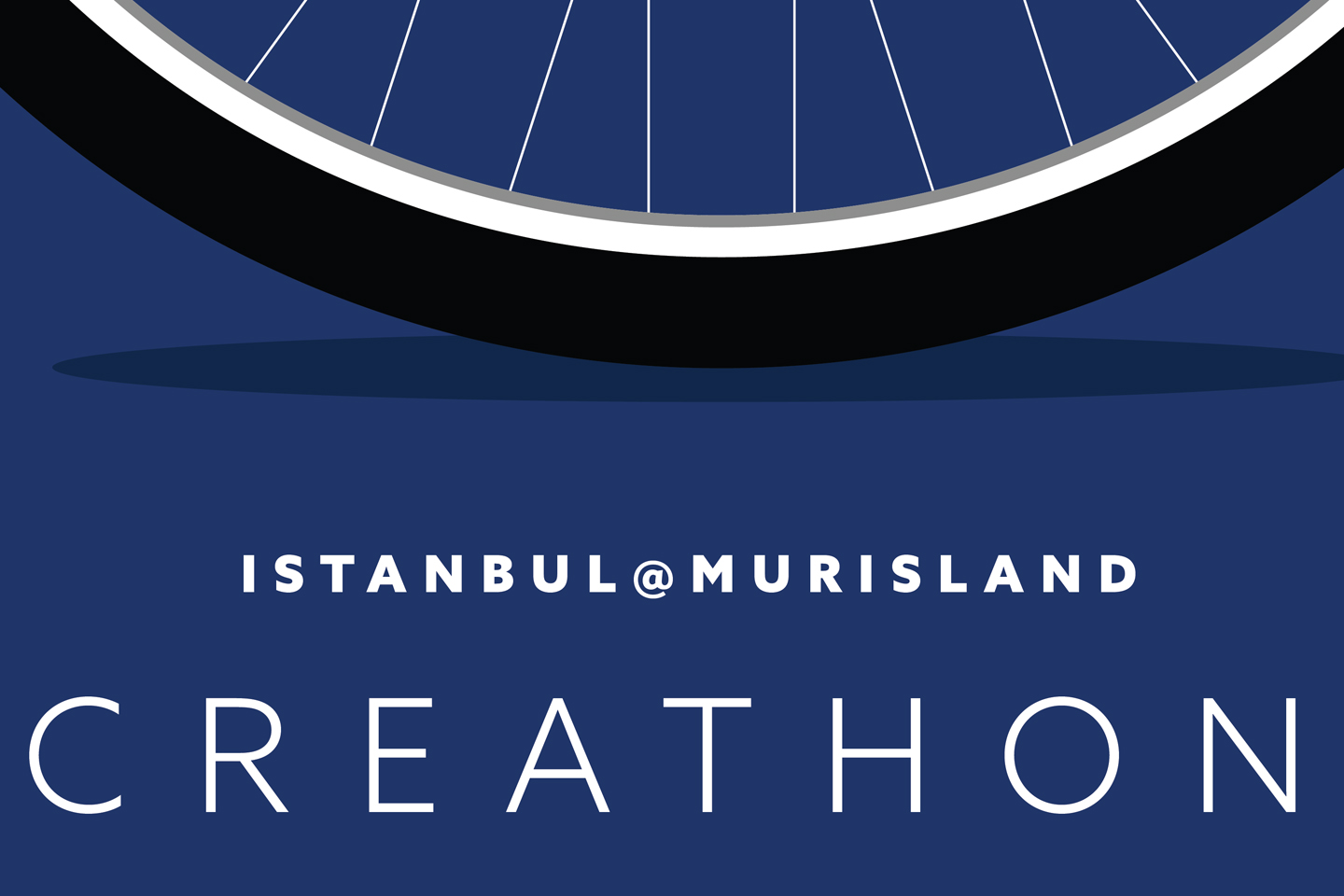 During Graz Month of Design 2019 the Creative Industries Styria has an intensive partnership with the UNESCO City of Design Istanbul. In addition to the "Istanbul Design Collection" exhibition at the designforum Steiermark, a 3-day program will take place on the Murinsel, where you can get to know the design landscape of Istanbul better at Design Meetings, a Turkish Night and workshops.
On May 17, the Design Competition for Bicycle Design "Creathoncity" will take place. It is a conceptual design competition for a bicycle design. The expected output will be environmentally friendly, sustainable, high level of mobility, user friendly and will be explained how it will take place in the network of transportation relationships in the future and the processes are questioned as a user-oriented system.
Expected outputs will be one of the following:
Bicycle design
Bicycle accessories design
Parking process design
Bicycle roads design
Repair accessories design
Bicycle application design
Participation
Participation can take place individually or as a team
Each team can consist of at least 2 and a maximum of 3 participants
Participants must be at least 18 years old
All participants of the same team have to send their CVs
Participation is free
Registration for the competition is required until April 28.
Program
May 17
09.30
Registration
10.00
Briefing
11.00 – 22.00
Creathon – team work
May 18
10.00 – 12.00
Presentation & Jury Evaluation
20.00 – 22.00
Awarding of Winners at Turkish Night
Winner of the Creathoncity will be awarded with a trip to Istanbul.
The Jury
Gerbrand Bas | Confederation Dutch Creative Industries – Secretary to the Board
He is an industrial design generalist with some 30 years of experience. Highly motivated to explore and emphasize the power of design. He has been secretary to the board of CDCI (since 2015) which is a unique foundation when it comes to join forces between design, fashion, advertising, architecture, fashion, photography, gaming and e-culture.
Charlie Deacon| Market & Product Development, Bike Citizens Mobile Solutions GmbH
Working first as assistant, later as Marketing & Sales Manager at Market Endeavour, a full-service marketing and innovation agency based in the Netherlands, Charlie gained bags of experience in the subject of product innovation strategy and the actual implementation of it. Shortly after moving to Graz, Austria in 2015 he founded the company Foodable and worked on interim management jobs for up and coming brands in the food industry. Since May 2018 Charlie has been responsible for the market and product development at Bike Citizens, with the main focus on the smartphone mount Finn.
Sertaç Ersayın | Industrial Design Professional – Founder of re/form/ist, President of Industrial Designers Society of Turkey
Sertaç Ersayın, a graduate of Industrial Product Design Department of ODTU Architecture Faculty, took the position of Vice President (Design and Innovation) and Strategic Design Coordinator for Kale Yapı Group for 4.5 years. Mr. Ersayın started his career as a Design Expert in the Technology Development and Engineering Departments of Koç Group. He managed the management of DeiChung JV and Hong Kong international marketing company, which they designed and produced in South China, for 3 years. He founded the Design Group in Demirdöküm, which is also in the same company, and directed it for 8 years. Ersayın, a member of the IF Design Award/ Hannover ve Design Management Europe jury, one of the most prestigious design competitions in the world, has made a jury membership in more than 150 design competitions. Mr. Ersayın, is the president of İndustrial Designers Society of Turkey. He is also the founder of the Reform-ist Strategic Design and Innovation Management company.
Thomas Feichtner | Head of Institute of Product & Transportation Design at FH Joanneum University
Thomas Feichtner is an internationally established product designer. He was born in Brazil and grew up in Austria. He studied industrial design at the University of Art and Industrial Design in Linz. He designed numerous products for international brands such as Swarovski, Laufen, Bene, Adidas, Head, Absolut, Augarten Porzellanmanufaktur, J&L Lobmeyr, Neue Wiener Werkstätten, TON and Carl Mertens and realized projects in cooperation with manufactures such as Vitra, Thonet and FSB. His work is positioned midway between industry and handicrafts, mass production and one-of-a-kinds. International exhibitions at the Triennale di Milano, the International Biennial of Design in Saint Etienne, the Austrian Cultural Forum London as well as the MAK – Austrian Museum of Applied Arts / Contemporary Art in Vienna followed. His work was honoured with international design awards and have been acquired by various design collections. A personal monograph "Thomas Feichtner – Edge to Edge" was released by the MAK – Austrian Museum of Applied Arts / Contemporary Art and published by Birkhäuser in 2010. From 2009 to 2014 Feichtner was a professor for product design at the Muthesius Academy of Fine Arts and Design in Kiel, Germany and in 2011 he was awarded by the Austrian State Award for Design. Since Oktober 2018 he is Head of Institute of the Bachelor and Master Program Industrial Design at the Joanneum in Graz. He lives and works in Vienna and Graz with his wife Simone.
Prof. Dr. Çiğdem Polatoğlu | Yıldız Technical University – Head of Architectural Department
Born in 1964, Çiğdem Polatoğlu studied at the Mimar Sinan University Faculty of Architecture, and started her academic career as a Research Assistant at Yıldız Technical University, Department of Architecture. She has concluded her master's study in Istanbul Technical University in 1987 and she also got her PhD Degree in 1994 from the same university with thesis entitled "An Approach to New Building Designs in Historical Environments; A Method for Istanbul". In 1994 she was appointed Assistant Professor at Yıldız Technical University.
She has international awards: International Competition of Ideas for Developing The Surroundings of The Roman Aqueduct of Segovia: Proposals for The Third Millenium, Segovia-Spain, 1998 (Mansion) and supervising, M. Alessia Agnuzzi (LLP-Erasmus), "Social Sustainability in Sulukule; New Housing and Development of City Walls in İstanbul", 5th year Graduation Thesis and Project, Catania University, "Ordine Degli Architetti, Pianificatori, Paesaggisti e Conservatori Della Provincia di Torino" Category C, Master degree student Graduation Project award, 2012.
She is still continuing her studies in Yıldız Technical University as a full time professor. During her 33 years in the university she had numerous administrative duties and published articles over 100. She is also the consultant of Istanbul Greater City Municipality in the Department of Urban Design from 2013 and coordinated the project of Istanbul Urban Design Guide. She is also consultant of UNESCO Istanbul Design City since 2017. She is also chair of INTBAU Turkey since 2018. From November 2017, she is appointed as Head of Architectural Department in Yıldız Technical University.
When
17. May 2019 | 9.30 — 22.00
Where
Registration