Events
Design Talks
16. May 2019 | 12.00 — 17.45 | Murinsel Graz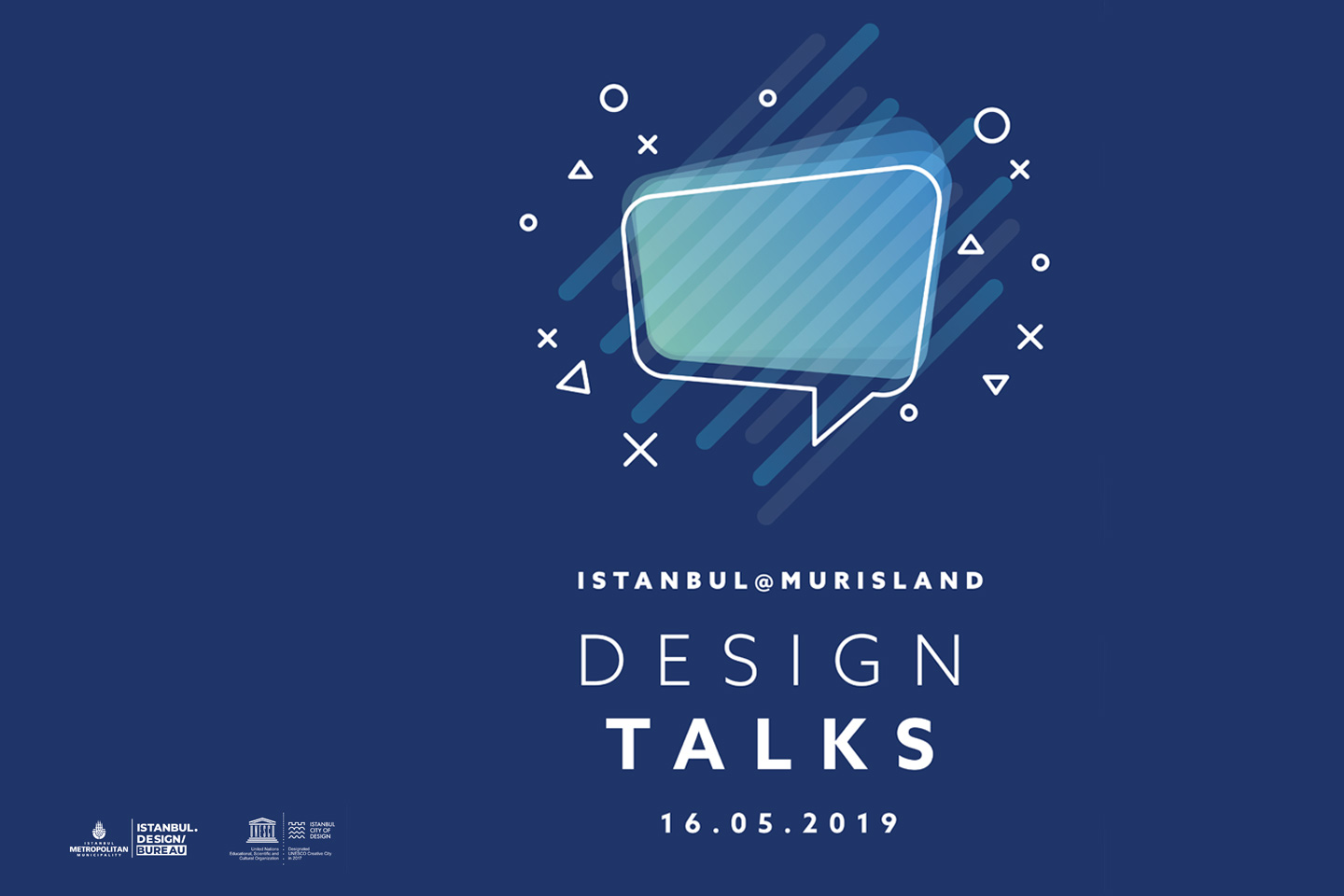 City of Graz is hosting Designmonat since 2009. This year, Istanbul will take part in it too for the first time!
Istanbul become a UNESCO City of Design on 2017. Since then, it is trying to increase its' international cooperation with other Cities of Design and this 3 days program is a nice example of cooperation between Istanbul and Graz.
Istanbul has a rich capacity on most of the design branches. This includes industrial, architectural, fashion, art and many more. To share its' design knowledge and create more with cooperation, they are going to give "Design Talks" speeches on May 16 and multiple workshops on turkish hand made arts on May 18.
Program
12.00 – 12.30   Opening Speech
Panel 1
12.30 – 13.45   All Aspects of Design in Istanbul
Design components of Istanbul; culture, art, architecture, fashion, industrial design, craft design and the relationship between these components with the city will be discussed. In addition, the city's ecosystem, facilities, sectoral data and good practice examples will be shared with the ideas.
Speakers
Deniz Ova | Istanbul Foundation for Culture and Arts – Istanbul Design Biennial Director


As head and director of the International Department of ICPIC (Istanbul Design for Culture and Arts), Deniz Ova has organized numerous international events. She has occupied the title of director of the Istanbul Design Biennial since 2013.

Mehmet Kalyoncu | Turkey Design Foundation – Board Member


As well as being a board member of Kalyon Holding Mehmet Kalyoncu is also a member of the Executive Committee of the İstanbul New Airport project. In 2016, Mehmet Kalyoncu was one of the founders of the Turkey Design Council, which aims to make Turkey a design-friendly country and raise awareness on the potential of design in Turkey. He is now Chairman of the Executive Board.



Sertaç Ersayın | President of Industrial Designers Society of Turkey
Industrial Designer and Design Strategist Sertac Ersayin has participated as a jury member at various national and international design competitions such as IF Design Award / Hannover, Design Intelligence Award ( DIA, Hangzhou – China Academy of Art ) , Shenzhen International Design Award, G Mark- Good Design Japan, Design Management Europe Award/Eindhoven , DIA, High Speed Train Design Competition / China and Best Design Project Award / India ( 2 times ) and following more than 300 national and international competitions.
He is the Executive Board Member of Design Turkey, Design Evaluation System, President of Industrial Designers Society of Turkey and President of Creative Industries Council of Turkey. He has received numerous international awards on design and innovation in Germany, Italy, Netherland, Portugal, Turkey and Korea. He previously worked as an industrial designer and design director for one of Fortune 500 companies in Istanbul, Hong Kong, Shenzhen. He is now founder and director of Istanbul based Design and Strategy Development & Consultant Company, re/form/ist.

Aslıhan Erkmen | General Secretary of Traditional Arts Association


Dr. Aslıhan Erkmen Birkandan holds a PhD in art history, majoring in the Islamic art of books (Ottoman, Safavid), traditional crafts, art management, communication and museum research. She has researched in various manuscript libraries, collections and institutions in Turkey and abroad. She is currently a faculty member at the Istanbul Technical University and general secretary of the Traditional Arts Association, a UNESCO accredited NGO based in Istanbul.



13.45 – 14.15  Break
Panel 2
14.15 – 14.45  Intervention on "Public" Space
Speakers will be talking about 5 different experimental installation projects which are built in Istanbul, London and Rome. Fostered by dualities, these installations gently falls in step with the city's chaos and natural forces; and they complete their missions if they encourage passers-by to think about nature, the city and time, even if only for a few moments.
Speakers
Sevince Bayrak Göktaş and Oral Göktaş | SO?, Founding Partner


Sevince Bayrak founded along with Oral Goktas the Istanbul studio SO ? mainly focuses on design, architecture and urban planning. In 2013, she won the Young Architects Program from MoMA / PS1 and created Sky Spotting Stop for Istanbul Modern, also exhibited in MoMA and MAXXI. In 2015, in addition to winning the invitation competition at the Royal Academy of Arts; Her project Unexpected Hill was exposed in London. Her work has been published internationally and nominated for the prestigious Mies and Aga Khan Awards. Her recent work includes a public cultural center in Istanbul and an interdisciplinary research project on emergency shelter after disasters. Bayrak recently completed her PhD on public space development. She is currently teaching at the MEF University in Istanbul.
14.15 – 15.45    Break
15.45 – 17.45    Learning, Teaching, Sharing Istanbul
This session will be held with the 'Learning, Teaching, Sharing Istanbul' motto; successful actors in the design field will tell how they are fed from the city in their design processes, which elements they are inspired by the city and their point of view as a designer to Istanbul.
Speakers
Can YALMAN | Industrial Designer


Can Yalman studied product and furniture design at the Parsons School of Design in New York. Between 1994 and 2002 he worked as a designer in Arçelik, Beko and infoTRON. In 2002 he founded Can Yalman Design, during this time he worked for companies such as RocaKale, Hisar, Bosch, Numarine, Teba, Başarı Electronic, Compaq, Canakkale Ceramics and IYI. Yalman, who has been working professionally in industrial design for 12 years, places great value on innovation and practical solutions in his designs. In addition, Yalman has been awarded numerous international prizes.

Şehnaz Biçer Özcan |  Miniature Artist


Dr. Şehnaz Biçer Özcan graduated from the University of Mimar Sinan, Academy of Fine Arts, Department of Traditional Turkish Arts in Istanbul, and did her doctorate on Asian field Uighur manuscripts. She was awarded the "Turkey's Producing Women Award" in 2018 by the Turkish Chamber of Commerce and Trades Union.



Arzu Kaprol | Fashion Designer


Arzu Kaprol graduated from the Mimar Sinan University of Textile and Fashion Design in 1992 and continued her couture education in Paris later winning prestigious award "avant-garde designer". She participated in shows at the Paris Fashion Week and also opened showroom in Paris. Arzu Kaprol is known for her contextual smartwear; she developed a jacket that changes its shape and functionality as the climate changes. Arzu Kaprol creates fashion as the way architecture is created with unique detail work moving forward to the fashion culture of the future.



When
16. May 2019 | 12.00 — 17.45
Where