Events
LADIES, WINE & DESIGN
29.05.2021 | 11.00 — 19.00 | Burggarten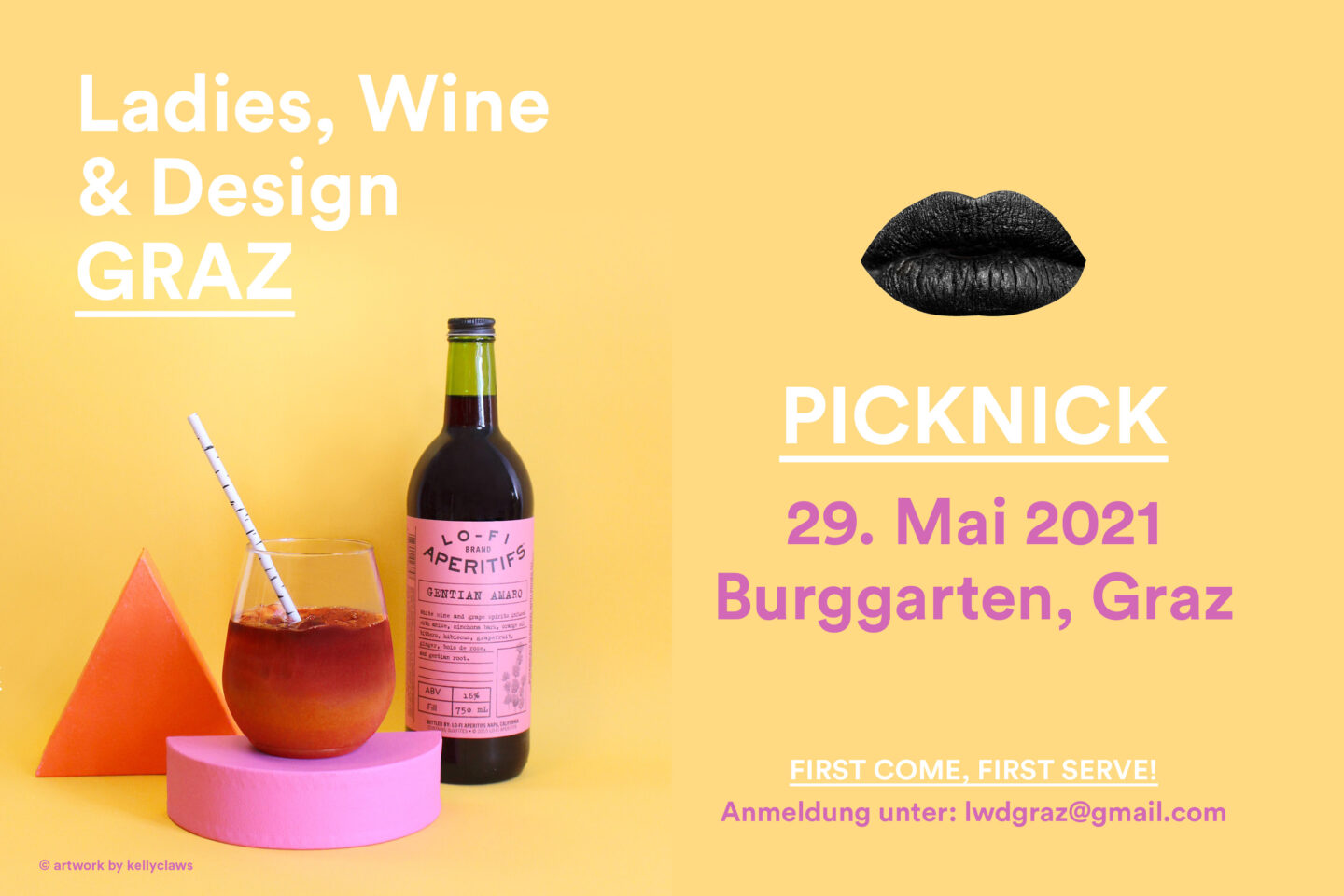 When
29.05.2021 | 11.00 — 19.00
Where
What began with talented Jessica Walsh in New York has now been realized in 280 cities across the world. Since 2017, "Ladies, Wine & Design Graz" has also found a home base in Graz. Valentina Grabner and Verena Jauk have ever since hosted monthly parlor evenings to enable women from Graz's creative scene to network and provide them with a platform for relaxed and entertaining get-togethers.
This time, in Graz's superb Design Month 2021, we'd like to invite you to a Ladies, Wine & Design picnic. It's high time to meet again and talk to each other, discuss this and that, have a chat and a good laugh – about the things we're doing.
All ladies working in the creative sector are welcome!
Program
11:30 am
Julia Oswald – teacher, podcaster and speaker
A woman who does something for other women!
Julia Oswald is a dedicated teacher, podcaster and speaker who is passionate about motivating women to do what they dream, hold their heads high and boldly go their own way.
After graduation, Graz-born Julia went out into the world to teach in Thailand, Ireland and the United States. Back in Graz, she worked for various different education projects dedicated to socially underprivileged girls and during her term of parental leave, she started a podcast called Lunch Break Stories – addressing female founders and budding enthusiasts alike. But, how on earth did she find the motivation to launch a podcast? After all, with two small children, she would have hardly had a spare minute during her parental leave. For Julia as a woman, however, there was clearly no other alternative than to help other women. Outside of her recording studio, too, Julia causes quite a stir: she has been nominated and awarded prizes several times for her commitment, and has just received the Steirerin Award 2020 in the category for female doers (Die Macherin).
1:30 pm
Valerie Maltseva – photographer
A few things I can share
Is photography a trendy job or hard work? What does it take to make a living as a photographer? Focus and niche – are they crucial or overrated? How does organizing photographic projects look from the inside?
Valerie Maltseva shares a few things she learned in her professional life so far – highs and lows; and joins the cozy open discussion to talk about all things workflow, failures, and screen/life balance.
3:30 pm
Katharina Maria Zimmermann
Author, concept designer
What on earth inspired you so?
Inspiration has fascinated author and concept designer Katharina Maria Zimmermann for years. Where does inspiration come from? How is an idea born? What sticks in our minds? Who has an influence on us? When are we creative? What leads to creativity? And can we do anything to become even more inspired? She has been seeking answers to, and reading about those questions and invites listeners to share their thoughts with her on this thrilling, but often unfathomable subject.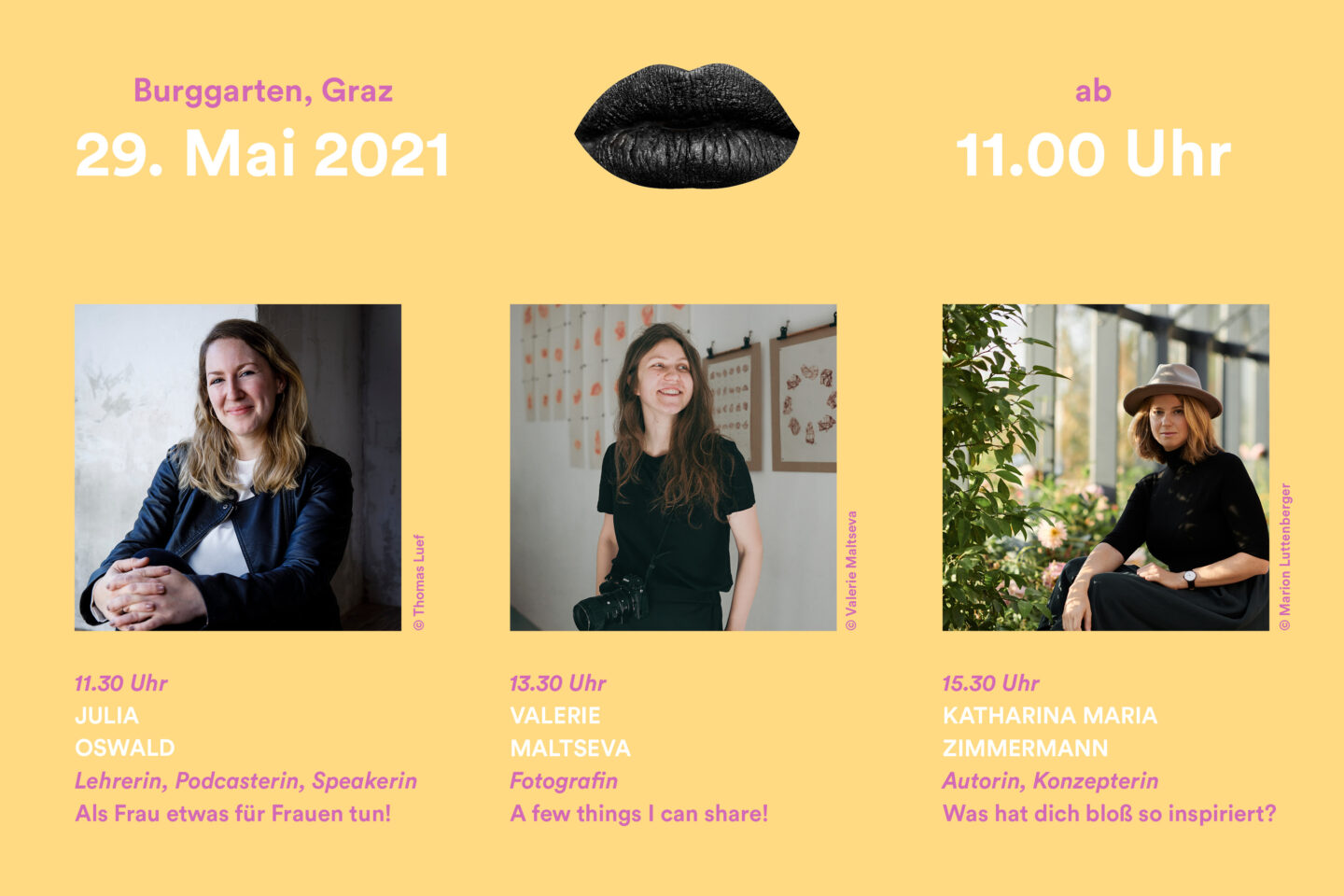 EVENT
Ladies, Wine & Design Picknick
May 29, 2021; 11.00 am – 7.00 pm
Burggarten
Sign-up at: lwdgraz@gmail.com
First come, first served!
When you register, please state whether or not you wish to chat with us all day and which of the ladies' discussions you'd like to participate in.