Show me the picture of death
We all have to die. Still, everyone encounters death in a different way: some with fear, others with stoicism - and some with a smile. The poster contest "To Death with a Smile" showcases how designers from all over the world deal with the topic of death.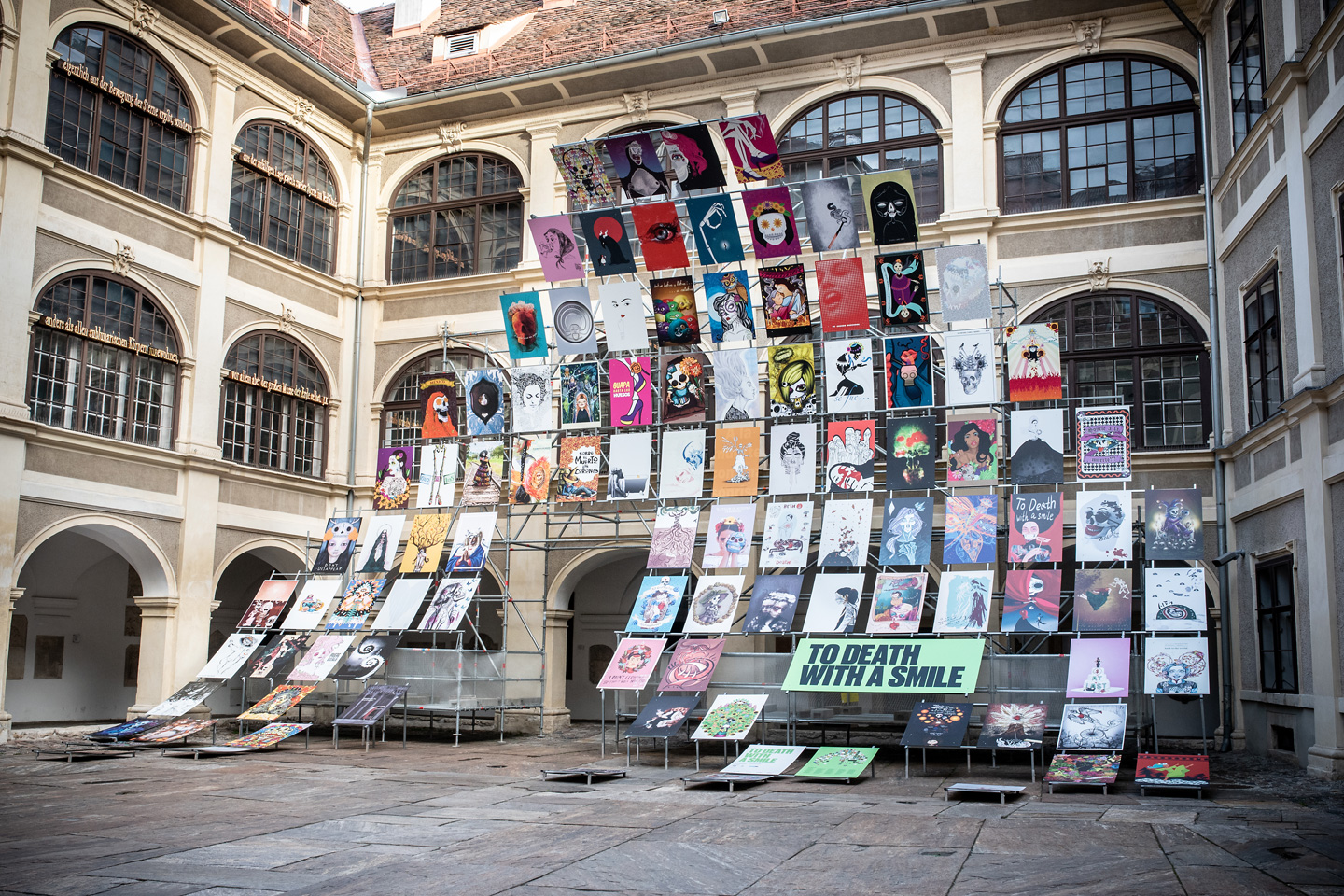 For 14 years the Mexican design museum MUMEDI has called on designers from all over the world to deal with the theme of "To Death with a smile" and collectively explore the eternal mystery of "death". The project was initiated by Álvaro Rego, director and owner of the MUMEDI, who himself has already faced death: "The idea for the competition came up when I died three times in the hospital at the age of 33. Three times my heart stopped beating, and three times I had a similar experience of the afterlife. That's when I thought it would be very interesting to have people from all over the world tell in a graphical way what they think about death." Depending on religion, country of origin, family traditions, personal experiences and beliefs, the idea of ​​death varies. Although it is a concept that is as clear and final, it is still mysterious and cryptic.
The eternal fascination
Rego hit the mark with the topic, which is clearly shown in the response: Thousands followed the call of the MUMEDI to graphically deal with "death". Every two years, the competition is being retendered, with the MUMEDI receiving more than 30,000 submissions from 157 countries in the last competition. The selection of winning posters does now include more than 2,500 posters from all over the world, showing how different and culturally influenced the conceptions of death are. "Our culture probably has the most influence on how we perceive death. We grow up and see how our parents, grandparents and friends deal with death," says Rego. At the same time, the posters also reflect current conflicts such as the prevailing violence in parts of Mexico, the fear for one's own life in Iran and worldwide terrorist attacks.
The female side of death
But what does death itself look like? For us, death is a thoroughly masculine concept: he is Grim Reaper, or "Freund Hein"; no matter if hangman or friend, in our language he is a man. Our visual picture of death is also shaped by strong masculine characteristics, which can be seen in Egon Schiele's painting "Death and Maiden". If we take a look at other cultures, we realize that death does not necessarily have to be a man. In Mexico, death is female, not just in terms of grammar but also culture. "La muerte" is embodied by a woman. Created in 1873 by caricaturist José Guadalupe Posadas, "La Catrina" quickly became a central figure in the Mexican culture. Rego explains the Mexican perspective of Death as a female concept: "Death is something we all have to face, but we do not know what the afterlife is like – the same intriguing uncertainty as the female seduction game that captivates men without them knowing what to expect."
In general, Mexico is famous for its unique approach to death. Skulls made of chocolate and sugar skeletons instead of "Allerheiligenstriezel" (Austrian bread served on All Saints Day), exuberant processions instead of lighting candles, party instead of quiet mourning: The happy celebration of the "Día de los Muertos" – celebrated at the same time as our All Saints Day – fascinates people all over the world. With time the posters have evolved. Designers from other countries are learning about how we deal with death in Mexico and they decide to appreciate it, "says Rego. Many posters feature floral patterns, fancy, dancing skeletons and bright colours. For example, the poster by Inna Razmakhova from Russia shows a skeleton that merges with a butterfly. This, like 106 other posters, will be on display during Design Month Graz at Lesliehof (Joanneumsviertel). The presented selection is dedicated exclusively to the female view of death as all showcased works were created by female artists.
Death as the beginning and the end
But thinking of your own decease, doesn't your smile start to fade? "Most people are not in a hurry to die, but think positively, or rather believe, that there will be a kind of heaven in the afterlife," says Rego, referring to the thousands of posters he has seen over the years. "Many also believe that due to their behaviour in this life, they will be rewarded or punished in the hereafter, or will be sent back to the world in a better or worse living form, as a human or animal."The poster cannot – of course – provide an answer for what we will experience after dying but more likely they can take away the fear of death. So one day we might be able to meet "him or her" with a smile, like Álvaro Rego: "I think, because I have lived a very good life, I do not regret anything. Besides, if death is anything like the wonderful and peaceful place I experienced when my heart stopped beating, I'm sure that I will enjoy it!".