Reconciling With Your Own Contradictions
For decades, the Minoriten Kulturzentrum (Culture Center of the Minorites, a.k.a. "KULTUM") has reliably hosted a high-quality program featuring several art forms. As a partner of the Design Month Graz, this institution with its long-standing tradition will stage the theme of design in its newly renovated hallowed halls. Only at first glance does this seem like a contradiction, as the KULTUM director Johannes Rauchenberger explains in an interview.
How does the theme of design fit the KULTUM?
At the moment, it matches perfectly with our current exhibition by Manfred Erjautz, who artistically transforms everyday objects in such a way that they offer a fruitful opportunity for dialogue. The exhibition is titled "Dinge/Things". Erjautz has created sculptures from various everyday objects, all of which have meaning. So why design at KULTUM? You could also say: because our house has been completely renovated. Now this really successful, historic shape can be experienced again. But it's not enough for me just to say that it's beautiful. With the program at KULTUM, I try again and again to point out contradictions or to make fault lines visible.
Conscious action, thoughtfulness, empathy, solidarity, also creation … These are all themes that not only belong to the Christian-religious sphere, but also the field of design. Where do design and spirituality meet, and what are the differences?

It's precisely in these areas that they meet ‒ solidarity and mindfulness ‒ and also a perception of reality beyond superficiality. Breaking through superficiality seems to me to be particularly important for the program at KULTUM, and if we project this breaking through superficiality onto design, we can gain a great deal. Because only at first glance does design mean prettification. KULTUM is actually very well suited to addressing this aspect, because of course we are also at risk of radiating prettification. In this respect our house is a place of extreme contradictions, because originally it was influenced by Saint Francis. Nevertheless, something of such splendor has been built here. The relationship between our aspiration for substance and this overwhelming beauty makes this building, which is so Franciscan in character, a wonderful place of contradiction. If these aspects can also be transferred to design, then I think that is wonderful.
This year's Design Month has the theme of "Green Transition" – so roughly speaking, everything to do with sustainability. There are major efforts by the European Commission to embed sustainability in people's minds. What can a house like the KULTUM contribute to the themes of sustainability and Green Transition?

Our contribution is to remind people that intellectual and spiritual traditions addressing sustainability and a Green Transition date back a long time, in this case to the 13th century. With his form of responsibility for creation and appreciation of simplicity, Francis already had a genuine and also evangelical message. In this regard, our founding narratives are already something to be aware of. The same goes for our form of implementation – providing a space that is green and quiet. In such a setting, I keep thinking about whether we really need the latest technology or whether purely sustainable products are possible. Addressing this in a reduced and simple way, that's what we do time and again with artistic positions.
What is your personal approach to design?

When designing rooms, a beautiful design is infinitely important to me. In that sense, I'm sympathetic to the subject. I criticize design when it becomes prettification, because it's also good for my other side, my professional existence as a curator, if I can point out contradictions. I see it as a very important message that interventions should be made consciously in the design of rooms. I try to do that at home too, together with my family. At KULTUM, we also have opportunities to engage with new design responsibly, even in the context of small, everyday things: where can you find a rubbish bin, how do you put up the signs, where do you hang pictures. We are also trying to present contemporary art from our collection in the converted spaces, but always in connection with the narrative of the space and these contradictions I already mentioned.
Contradiction and the concept of misunderstanding are often found in design. Both apparently also play a role in the direction of KULTUM, because its intentions are not immune to being misunderstood. Against this background, is opening up to design a way of clearing up these misunderstandings, of getting more people to visit the house and binding them to it?
I don't know about binding, but I trust that more people will come because design appeals to a completely different clientele. The parallels you see on misunderstandings are a nice observation, I would agree with that as well. Misunderstandings in terms of religion in particular need to be addressed more intensively. It's not that I see religion or engagement with religion as providing space for propaganda. Art, for example, has often rebelled against this. Rebellion has become an interesting aspect of my exhibition work, a contradiction of the expected. In the light of this, the contribution of the exhibition or KULTUM as a whole could be to encourage visitors to reconcile with their own contradictions and to leave our house strengthened.
Interview: Stefan Schwar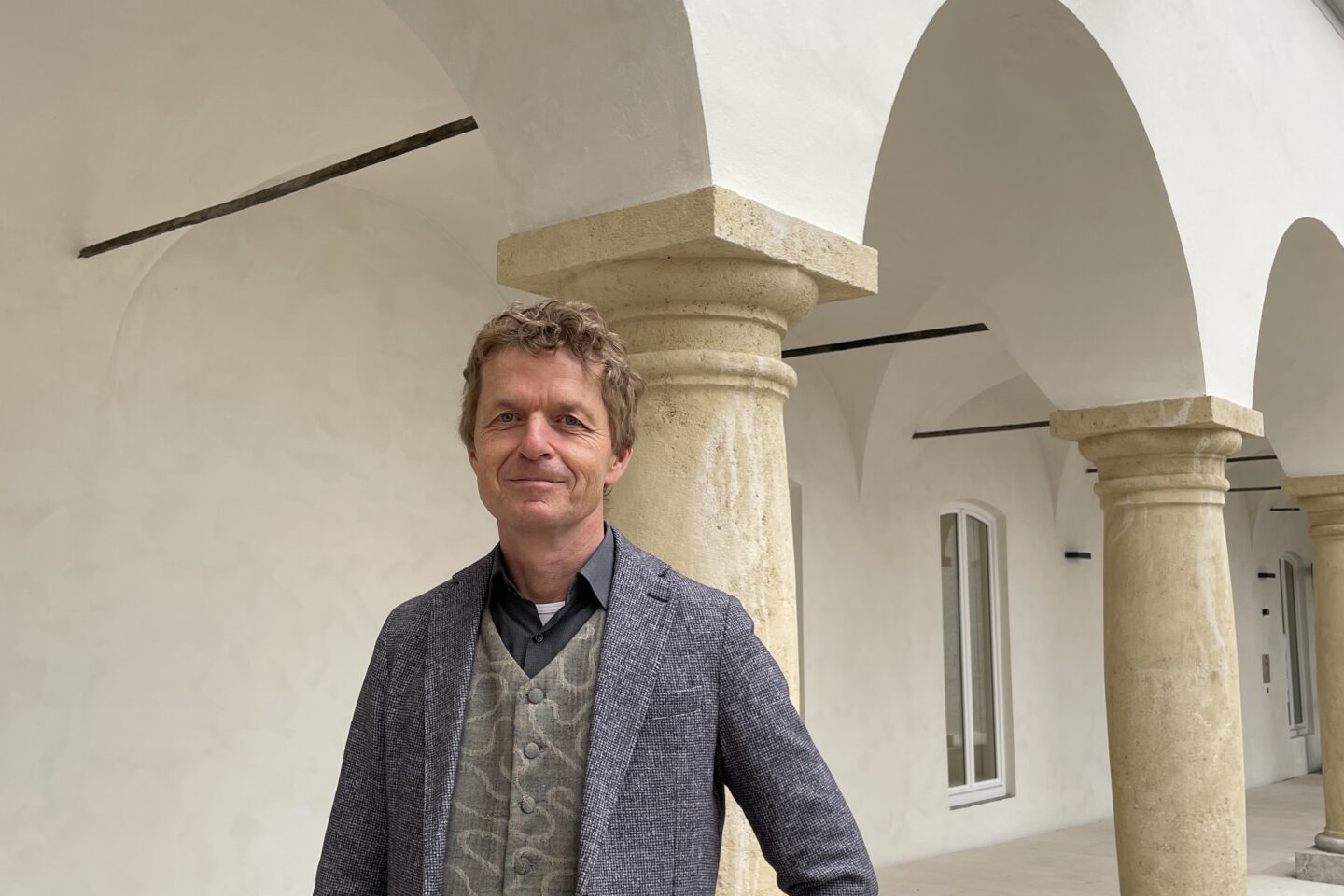 Johannes Rauchberger © KULTUM/A. Hopper
Johannes Rauchberger is a curator, art historian and theologian. Since 2000 he has directed the Minoritenzentrum Graz, a multi-disciplinary center for contemporary art, contemporary culture and religion in Graz. His work focuses on the relationship between contemporary art and religion, which is evident in numerous curated exhibitions, lectures, teaching activities and publications. Since 2010 he has been building a collection of contemporary art and religion.